Christopher Manners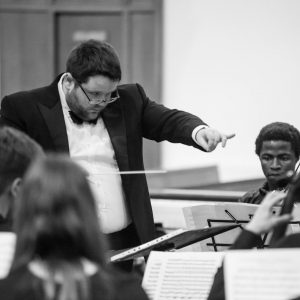 Welsh conductor and pianist Chris Manners graduated with a Bachelor of Music (with Honours) degree from the Royal Welsh College of Music and Drama in July 2016. Whilst there, he studied piano performance intensively with Roger Owens, Richard McMahon, Alison Bowring and Fazliddin Husanov.
Turning quickly to conducting in his first year as an undergraduate, Chris founded the Welsh International Symphony Orchestra Project with musical colleagues, in order to form and perform with his own orchestra; successfully organising, leading and directing a series of concerts in and around Cardiff. In 2013, he was appointed as Musical Director to the Cardiff University Healthcare Music Society, taking up the role as Chief Conductor and director of the orchestra. He has recently been appointed Musical Director of the Royal Forest of Dean Orchestra, taking up the position in September 2017.
During his studies, he has worked with the BBC Philharmonic Orchestra, BBC Symphony Orchestra, BBC National Orchestra of Wales, City of Birmingham Symphony Orchestra, London Symphony Orchestra and the Vienna Philharmonic Orchestra. He has performed in masterclasses with Vladimir Ashkenazy, Freddy Kempf, James Kirby, Angela Hewitt, Imogen Cooper, John Lill, Nikolai Demidenko, Nikolai Lugansky and Kathryn Stott. He has also worked as a musician alongside Sir Simon Rattle, Carlo Rizzi, David Jones, Sir Colin Davies, Valentina Lisitsa, Noriko Ogawa, Simon Halsey, Julian Wilkins, Adrian Partington and Grant Llewellyn.